Balearia Descuento del 15% en pasaje y vehículo en reservas de Ida y Vuelta. Código válido para las lineas: - Barcelona <> Ciudadela - Alcudia <> Ciudadela - Válido para viajar entre el 25/06/2020 al 05/07/2020 - Válido para reservas desde el 10/06/2020 al 25/06/2020 - Válido para reservas sólo de IDA Y VUELTA con o sin vehículo - Acumulable al resto de ofertas - Permite TE online - Estos billetes admiten cambios, no anulaciones - Plazas limitadas.
Balearia ¡No te dejes el coche en tierra! Lanzamos una oferta especial con un descuento del 25% sobre el precio del coche para los viajes a las Islas Baleares o interinsulares. ¡No te dejes ni un kilómetro por recorrer!
Balearia ¡A partir del 25 de mayo volvemos a navegar juntos! Reabrimos las conexiones entre la península y las Islas Baleares para que puedas volver a disfrutar de todo lo que las islas nos tienen reservado.
Promotional offers
Deals and promos Balearia.
5% off travel from Valencia.
Save up to 20% on routes from Mallorca.
Special Balearia deals from Barcelona.
Get the best deals and promotions in your mail.
Expired coupons
Some codes may still work.
Get a discount code Balearia now.
Take this great savings 20% at Balearia.
25% off at Balearia website.
10% Balearia discount code, no minimum.
Coupons balearia.com
Here you can get all discount coupons, promotional codes and current September 2020 deals from balearia.com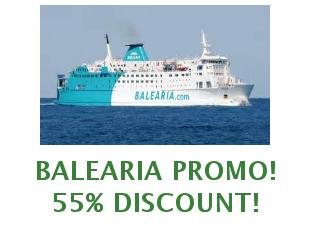 Travel Balearia
With Baleària, you can enjoy the best ferry travels for your holyday destinations. Discover our offers and buy at the best price. Balearia offers a number of routes for you to enjoy the freedom of travelling with your own vehicle, and to take everything you need with you. Forget about luggage limits! They have a variety of vessels, depending on the route: Ferry, Ferry, Super-fast Ferry and Jet.
Discover our offers and buy at the best price. Get best deals Balearia ferries online with DiscountsCoupons. To use a Balearia promo code, just fill your cart. The savings will be automatically added at checkout.
Other travel companies to Balearia