Coupons oyorooms.com
Here you can get all discount coupons, promotional codes and current May 2023 deals from oyorooms.com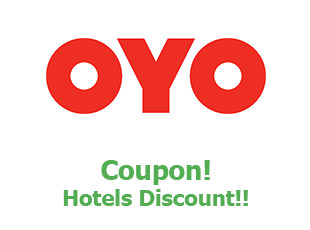 Hotels OYO Rooms
OYO Rooms is an Indian multinational hotel chain, founded in 2012 by Ritesh Agarwal. It offers affordable and quality leased and franchised hotels, homes and living spaces. It has over 850,000 rooms in more than 23,000 hotels in over 800 cities in 80 countries, including India, Malaysia, UAE, Nepal, China, Brazil, Mexico, UK, Philippines, Japan, Saudi Arabia, Sri Lanka, Indonesia, Vietnam and USA.
It has an app that provides technology that increases revenue and facilitates operations. With more than 100 million downloads, the OYO app was the third most downloaded travel app in 2020. The app offers a variety of digital tools to guide customers through their trip, hassle-free booking, pre-stay assistance, cancellations and services during and after their stay and more.
Subscribe and receive notifications and the best deals at oyorooms.com.
Similar Hotels to OYO Rooms